The true story of Bo VS Lamel
by Betty L Ingram
This is a statement on the web site of Melanie LaPoint (former Harker) of Lamel Kennels at
http://www.geocities.com/yurialamel/boys.html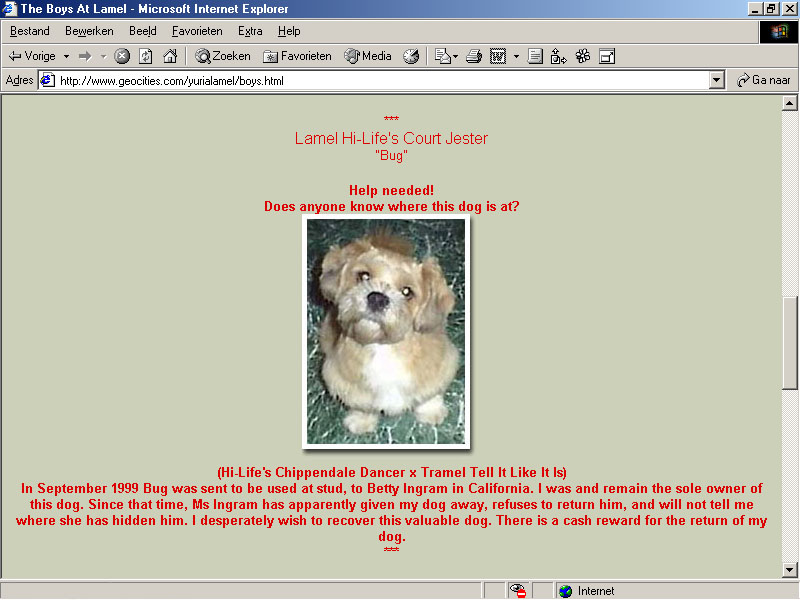 Click to enlarge
Text:

***
Lamel Hi-Life's Court Jester
"Bug"

Help needed!
Does anyone know where this dog is at?

(Hi-Life's Chippendale Dancer x Tramel Tell It Like It Is)
In September 1999 Bug was sent to be used at stud, to Betty Ingram in California. I was and remain the sole owner of this dog. Since that time, Ms Ingram has apparently given my dog away, refuses to return him, and will not tell me where she has hidden him. I desperately wish to recover this valuable dog. There is a cash reward for the return of my dog.
***

This is his pedigree:
Ch. Chulung's Charlie of Everglo
Everglo Marmalade
Everglo Royal Ginger
Llenroc Oliver of Everglo
Everglo Copper Carol
Everglo Ara
Everglo Pocohantas
Kai-La-Sha Fudge Sundae
Everglo Copper Carol
Kai-La-Sha Sequoia
Kai-La-Sha Cholla
Kai-La-Sha Mariposa
Ch. On-Ba Jo-Bo
Ch. Kai-La-Sha Dolma *ROM
Licos Pechen-La
Hi-Life's ChipenDale Dancer (Sire)
Karma Sha-Do of Everglo
Ch. Karma Bandido of Maru
Ch. Karma Bidang
Ch. Lakewood's Whisker Biskit
Ch. Mister Maru
Ch. Lakewood's Hella Merri Ellen
Zijuh Nyima
Ch. Hi-Life's Cover Girl of Bak
Everglo Rempa
Daman My Pa of Canton
Ch. Sharbo Zijuh Tsa Chu
Ch. Bit O Gold Buffae of Canton ROM
Ch. Licos Chulung-La
Chulinga of Canton
Kashgar's Golden Buff O'Canton

Tramel Hi-Life's Court Jester

Ch. Tabu's First In Line
Ch. Tiara's Dream Weaver
Ch. Tabu's Magic Magic of Tiara
Sin-Sa's Double Take
Ch. Tabu's On The Road of Pandan
Tabu's CL Tea Time of Sin-Sa
Tabu's CL Lady's Finale
Chiyoko's Wind B'Neath MyWing
Everglo Great Scott
Ch. Chiyoko's Home For Christmas
Chiyoko's Secret To Share
Chiyoko's Call The Wind Maria
Ch. Tabu's Deja Vu Of Chiyoko
Ch. Chiyoko's Sweetheart ROM
Ch. Chiyoko Love N Special Things
Tramel Tell It Like It Is (Dam)
Everglo Ceba Ri-Ba
Everglo Lucky Echo
Everglo Lucky Rose
Jokang's Echo of Everglo
Everglo Tis So
Everglo Tis So A Delight
Everglo Autumn Delight
Myers Tramel Keeping Secrets
Everglo Ceba Ri-Ba
Everglo Lucky Echo
Everglo Lucky Rose
Everglo Lilly of Jokang
Everglo Royal Rambler
Everglo Glad Rags
Everglo Goody Goody

To protect my name I am showing a copy of a letter signed by Melanie Harker and sent to AKC. In this letter she clearly states that both dogs will be turned over to me. That never happened. I also have a copy of the payment I made to AKC so Mel could acquire both dog's AKC papers. The papers for Bug were very delinquent as well when I paid for them.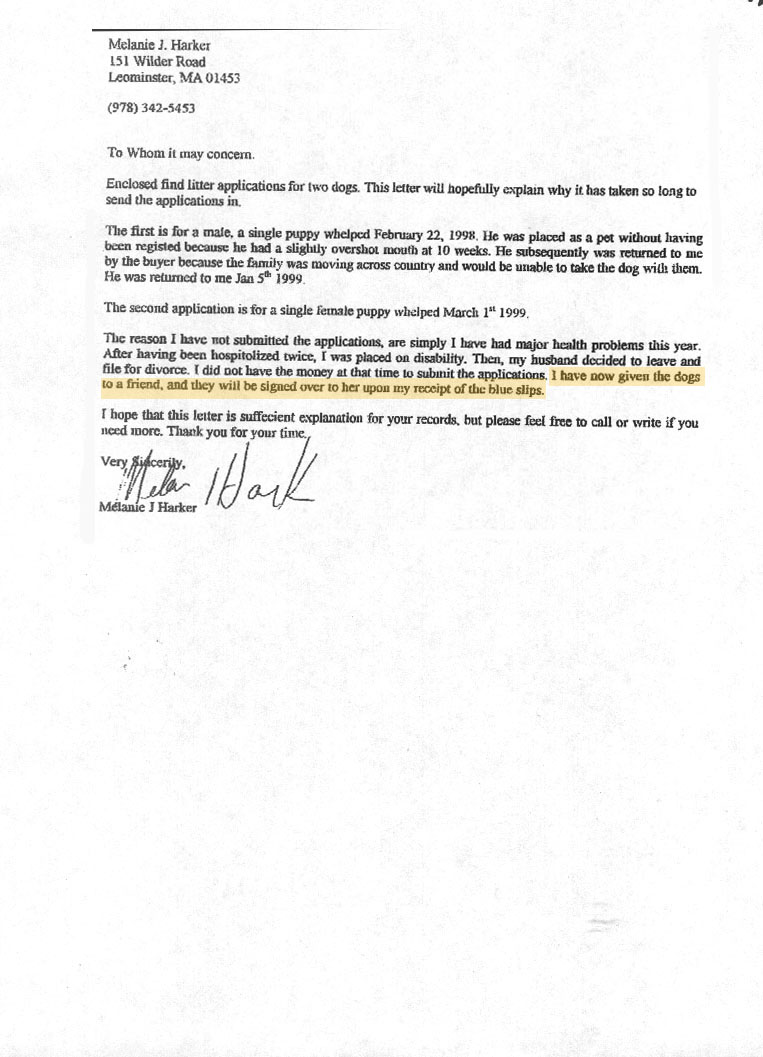 Click to enlarge

Bug was always available to be used at stud by Melanie Harker. He was placed with a very loving family, and Melanie Harker was notified by telephone of his placement. However, she no longer remembers the telephone call. Now she accuses me of stealing her dog.

When I first moved from Modesto, CA in December of 2001, I placed a call to Melanie Harker with David Thoma and Tom Conley on a speaker phone. She agreed to my placing Tista with Tom and David. The agreement was that once Tista was bred and we got a puppy back, Tista would then be signed over to David and Tom.

Tista was then bred to one of their males. It produced a male and a female (who later died). I took a trip to CA to see the puppy, I placed a call to Melanie from Tom and David's home to see if she wanted the male. She refused it and I then brought the male to Alabama.

Melanie states she does not remember this call either.

It took approximately 7 months for Melanie to sign the AKC papers giving Tom and David full ownership of Tista as promised.

Melanie did sign the litter application for Tista's male puppy. I then sold the puppy. The new owners sent Melanie Harker the papers to be signed so they could register their puppy with AKC. Melanie has refused several times to sign the papers and even threatened the new owners that she would be picking up the puppy from them.

I sent an e-mail to Melanie Harker requesting she sign the papers or the new owners and I would be taking legal action and I would also place documentation on my site of prior agreements.
FACTS:
A softie that I am, I kept any agreements we had.


A puppy out of Nilly and Senge was given to Cathy Marley to fulfill an agreement that Melanie had with her.



I paid all expenses and even bought the crates when any dogs were shipped to me.



Monique van Boxtel and I loaned her DJ to use at stud. When he was returned he had to be clipped down because he had gotten into blackberry brambles when he was there.



I gave her Tommy as a gift with no strings attached.


Melanie Harker also gave me Lamel Karu of BO, and when we were driving through Texas, Melanie asked me to let her friend, Lawanna LaSeur keep KaRu to be shown, bred to one of her males and then returned to me for a breeding. KaRu would then go back to Lawanna for the rest of her life. I did not do a contract here, trusting both Lawanna and Melanie. I also contributed 200 dollars to Lawanna for entry fees. What a shock many months later to discover that Lawanna and Melanie had spayed and placed her without ever contacting me.

PO who I co-own was to have been returned to me when he was not needed anymore. I was led on for months that he would be sent here and then I get this letter dated June 18th:
I have decided that Po will not be returned to you. Since you have made it increasingly difficult to get in touch with you, as well as your continuing disregard for the as yet unsettled dispute about Bug. When Bug is sitting in my living room, intact, I will send Po to you. I will extend until July 1. If Bug is not in my home by that date, Po will be neutered and placed. This is no longer negotiable.

I have copies of all corresponce prior to this e-mail.

Also shown here is a copy of the contract Melanie Harker signed when she first sent me 5 dogs.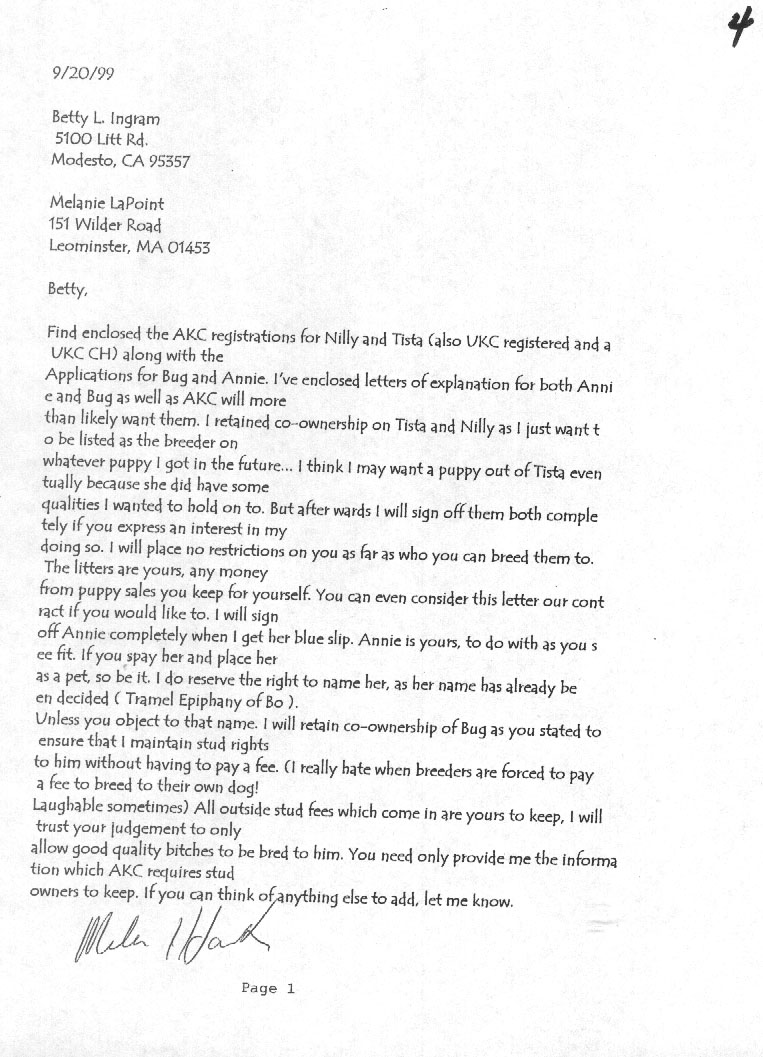 Click to enlarge

After Cathy Marley sent an e-mail sent to Monique Van Boxtel in February of 2003, I became aware of some problems that were occuring. The accusations are very unfounded.


First email from Cathy Marley to Monique Van Boxtel:
Monique van Boxtel wrote:

>About the Elliotts - I'm really glad that finally something
>was done now, but it's such a pity it didn't happen 3,5
>years ago, because then a lot of things could have been
>prevented...

In my opinion, your friend Betty has done more harm to the breed than 10 Cliff Elliots ever did. If AKC ever knew the full extent of her activities, she would lose her AKC privileges permanently and possibly face criminal charges as well.

I am sorry I ever GAVE her DJ. She took him, ruined him, neutered him, and gave him away. Even neutered at age 2, he now has at least 8 offspring that will become champions by the end of this year. She told everyone he had a shit coat, was oversized and a whole lot of other lies. Funny how all Betty's dogs have shit coats after she has them for more than a few weeks! I never got the stud service from him, nor any get from him. I have seen a number of his offspring - beautiful.

She has also degraded Gloria Fowler's line by indiscriminate breeding. For this, I cannot forgive her. I am only sorry that some of these have my kennel name in their pedigrees. I will not ever deal with her again, which means I have lost the Everglo connection forever. I will see to it that no-one who has dealings with her ever gets anything of mine. She has taken me down with her, and I am sick about it.

So all this crucifying of Cliff Elliot is a lot of crocodile tears. Betty thought to use Cliff, and her machinations backfired. She got a Canadian Champion in the deal, but that was not all she wanted. She wanted a showdog trained, and conditioned in perfect show condition - and this from a man whose references she did not bother to check (and disregarded what little bit some people did tell her). She got some 14 dogs from Melanie, and sold some of the dogs co-owned by Melanie without Melanie's permission or signature. (One wonders WHO SIGNED THE PAPERS?) If it was not Melanie, then a felony was committed by someone. Oh but who cares. What is a crime or 2, (or more) compared to Cliff's poor care of his animals?

Yes, I AM pissed off!
Regards, Cathy
http://www.lhasa-apso.org
FACTS:
I have never tarnished the name of the Everglo dogs. I am proud to have them and have shared them with anyone who has requested them, especially Melanie Harker.



There was never any agreement between Cathy Marley and Monique van Boxtel to have a puppy back from DJ.



The incident with the Elliotts goes a lot deeper than anyone is aware. If anyone is interested, I have copies of e-mails with the Elliotts while Korky was in Canada. This matter is not relevant to the case with Melanie Harker so I will not expound on it here.



I have never, ever forged any papers with AKC. I have several copies of e-mails where Melanie has asked me to go ahead and sign her name. I have always mailed or faxed her AKC forms to sign and very often had to be resent because she lost or misplaced them.



My kennels have always been impeccable. I have also given more than I have received. A look at any of my records will prove this.



This is a 2nd letter to Monique from Cathy Marley:
I didn't give Rosie to Darby. Rosie is sitting in my kitchen right now. She became a champion at 13 months of age. Darby co-owns my Molly, one I bred, not related to Rosie.

The puppy I sent Betty was one I should have kept. Better head, better coat, better rear. Attached is a photo of him at 6 months. I only kept Ivan because he had lighter bone - which is what I wanted.

What I know about Betty's dealings with people comes from many sources. You are the only one I have spoken about this to.

Kendall had a dog with Cliff that was well kept at the time, at least the way rural people in Canada consider "well kept". I don't think Betty's keeping the dogs in crates measured up to well kept either.

Several of DJ's children are already champions, and several more are pointed. Bred to some of the worst bitches I have seen, the kids are remarkable, and all very similar. Several people reported to me that the dog Betty showed them as DJ was white! Interesting, when you consider he was deep red at 6 months, his mother, father and siblings all deep red as well!

With all the dogs that have passed through Betty's hands, has she ever finished one that she has kept? Has she ever done anything with them except breed and sell them? I hear from all the people who lived near her in California - I visited them, saw their dogs. It is remarkable how a lousy dog like DJ with the shit coat, improved all those coats, and the bad back, produced all those long necks and straight backs, that move so well. Must have been the mothers (who are all different, even though the kids look alike).

Yes I dumped my shit dog on poor Betty, who had to neuter him and give him away he was so bad. Well it will be the last time I ever trust another such! I have encountered quite a few people in my 30 years of breeding dogs. The very bad experiences I have had were all with people who, like Cliff had one or more problems that made it easier to understand - the alcoholic lady, the two crazy ones - and I managed to rescue all but a few of these dogs. But Betty is another thing altogether. And I only brought her up because you and she are still going on about Cliff - who you wanted the other girl with a grudge against him to name on on the list.

Meanwhile, I'm pleading for people to stop the slander on the list. Jo O'hara had 3 dogs from cliff because she wanted to get into "breeding". One of them she has showed successfully. She and Cliff were OK for 3 dogs - now he is a swine to be ripped up publicly? Nice people!

Monique, I have done nothing but give a dog to what I thought was a show breeder. The dog has successfully produced champion get, bred to other people's bitches. So Betty had what I gave her. I have nothing but the reputation of giving Betty a piece of shit so bad she had to neuter it and give it away. I was even asked how much I charged Betty for him!

Why would I want to talk to Betty? You are the only person, other than Melanie to whom I have said anything about Betty. And that was only to be sure that she was not going to give Betty any more of my bloodlines. Be assured I have absolutely no reason to discuss Betty with anyone else. She is off my radar screen for good. The dog, thankfully, is of no more use to her. I have Rosie, - the puppy back from Melanie in exchange for Nilly - Nilly also of no more use - so the book is closed. I have no reason to ever mention Betty again, and I won't. The only reason I did to you is because you had to bring up the whole Cliff episode with that dog of Marie Allman's. I have more reason to be upset than any who shed all those crocodile tears. The only reason Betty ever got the papers signed was because Kendall and I interceded with Cliff - but nobody remembers that! Wonderful thing - selective memory!

If Betty wants to tell me why the dog was neutered and discarded, why did I have to find out second hand? She never asked me if i wanted him back, or offered me a pup from him. She did as she pleased as if I had no right to know. Now I should approach her to ask her why? I don't think so.

Monique, you have been the innocent accomplice in Betty's dealings, and I hope when all is said and done you do not share her reputation. It's not good, judging from what people tell me, and not likely to improve. People only tell me things because they know she had dogs of mine. I have nothing to say to anyone about her, because we have nothing in common now except for that Cruise Control dog. - a half brother to my Ch. Basil and to my Ch. Ellie. Another wasted dog. Case closed.
Regards, Cathy
http://www.lhasa-apso.org
FACTS
DJ was placed with my Granddaughter a few months after a major accident my husband and I were involved in. I had permission to do this from Monique when my Granddaughter wanted a playmate for her older Lhasa. After a few months DJ was neutered with permission by Monique.



Also, only one of DJ's offspring, that I am aware of, became a champion.

FACTS by Monique van Boxtel


DJ was gifted directly to me by Cathy Marley. There were never any strings attached to this gift. His AKC registration papers are in my name and address. I added Betty's name as co-owner and she did successfully show him at the IABCA and AKC shows in the United States for me. I allowed him to be used at stud. He was returned to Betty with his coat too damaged and had to be clipped down.
Click to enlarge


I visited Betty in the USA in October 2001. DJ was and is red. Betty and I both have posted DJ's pictures on our web sites and shared those pictures with our friends. We have never portrayed him as WHITE.
---

Here is suppossedly a fictional story published on the Apsolist by Cathy Marley. I will let you all decide for yourselves whether it is fictional or not.
----- Original Message -----
From: Cathy
To: apsolist
Sent: Monday, April 14, 2003 8:06 PM
Subject: [apso] A warning!
Let me tell you a story (fictional, of course). Once upon a time, a young friend of mine (an Apso fancier), was abandoned and left destitute by her husband with a small child and another on the way. A Kind Lady offered to help her out by taking some of her dogs under various arrangements which included just keeping them for breeding (a juvenile male) and co-ownerships for breeding (several females). A total od 9 dogs were transferred to this Kind Lady.

One co-owned bitch was to be bred and a female pup returned to my young friend. This never happened. She was bred, all right, but the pup never was returned. Instead, the Kind Lady gave/sold the bitch to a third party who is now demanding that my friend sign off as co-owner. In fact she is being coerced to cooperate in the theft of her own dog.

The Juvenile dog which was always and still is solely owned by my friend, was "placed" as a pet without her knowledge or permission by the Kind Lady. The Kind Lady refuses to recover the dog or to reveal where she has "placed" (stashed) him. In legal terms, the Kind Lady has committed both a criminal act - Larceny, and a civil tort. "conversion of property".

However because of the fact that the Kind Lady has moved from her original location, to another state, and my friend lives in yet another state, getting any criminal charges brought will be extremely difficult. And of course a civil action, involving lawyers in 3 states would be prohibitively expensive. So my friend has lost a valuable breeding population because she trusted in the kindness of another supposedly reputable breeder.

Moral: do check very carefully before you enter into any "deals" with people. Preferably DO NOT co-own dogs with anyone unless they live very near you, in the same State, are good friends AND YOU HAVE A PROPERLY WITNESSED WRITTEN CONTRACT WHICH DETAILS THE RESPONSIBILITIES OF BOTH PARTIES.

(Any correspondence of characters in this tale to real persons, living or dead, is probably coincidental.)

Regards, Cathy
http://www.lhasa-apso.org

The story goes on. It is a sad state of affairs when anything like this happens to anyone. Fortunately, I know I have done nothing wrong except to try to help someone when they were down and out and in need. I can live with myself.
This is a letter of apology which I received from Lorraine Iervoline concerning this matter:
Dear Betty:

I owe you a huge apology, as I do Monique Van Boxtel. I backed up Melanie's side of the story, of her sending you six dogs for safe keeping, after her divorce from her first husband.

I was the person who took her in after that divorce but, being a Yorkie breeder, I had no room, nor could not safely take in Melanie's dogs. Yorkies and Lhasas would not have made good kennel mates, due to both breeds having feisty personalities.

We shipped her six adult dogs to you after you kindly agreed to help out a fellow breeder in dire straights. At the time, I was asked to pay for crates and health certificates because Melanie had no money. I had no idea that you had already done so. I have since found out that I was lied to about that fact. Why?
Melanie has just left another husband and has dumped her dogs, yet again, with people who have been made to feel sorry for her.

When you claimed that she later signed the original six dogs over to you, while she temporarily moved in with her father, I took her side because she told me she never would have done such a thing and she was never in her father's house long enough, I thought, to have done so.

In her leaving her second husband and moving to Canada, I decided to finally go through some paperwork that was left behind in my home and dispose of these "copies" she was storing here. Well, I found the copies of the paperwork you have posted on your web site. I was shocked. She had signed those dogs over to you and had lied to me about doing so.

I have also, learned of so many other lies. Too numerous to mention in this letter.
The only dog Melanie now owns is Penny (Lamel Heaven Cent). That is out of a total of 15 dogs she owned less than eight months ago.

Penny had a litter out of PO. Yes, the dog she told you was neutered and you still co-own, is the sire of this litter. The litter was registered by Melanie and, due to a court ordered settlement and an agreement I mediated, was signed over to Mr. Johnny Carter, as was Po. She, also got a pick puppy bitch out of that litter. Mr. Carter got Po and six puppies. Melanie got the dam Penny, who is the daughter of her original bitch, Sugar. A pick puppy bitch out of Penny's litter and a bitch she calls Lilly Butt, which I think was a puppy out of a bitch she leased from Cathy Marley. I could be wrong on that. She only took Penny with her to Canada. Lilly Butt and the pick puppy bitch have been placed with a breeder in Texas. I have no idea if she retained Co-ownership on Lilly Butt. I do know that he is sole owner of the pick bitch puppy.

Why I am writing this letter is not only to apologize to you and Monique but, to inform you that she is now claiming to others that she never signed the papers for the litter or for Po. Not only was her signature court ordered but, I have seen the papers and she did indeed sign them.

Betty, I hope you accept my apology. I gave Melanie a home for two years and, like you, I only wanted to help out a fellow breeder and human being. She was like a daughter to me. But, like you, she turned on me when I started to confront her lies and stories. I know of no one who has had any dealings with her to later regret trusting her. That is so sad.

You have my permission to post this on your web site.
Peace and Love
From Our House to Yours
Lorraine and Joe Iervolino
in Corsicana, TX

I can be e-mailed at bolhasas@yahoo.com or by phone at 256 314 0772 if anyone needs any clarifications.

Monique can be emailed at jariweis@chello.nl
---
FINALLY!!!!!!! Justice has been restored!!!! AKC makes a final determination!

After a 6 month battle, Johnny Carter and I now officially own the dogs mentioned in the letters below. The first letter is a denial letter I received when I attempted to add Monique van Boxtel as a co-owner to Sweetie. Sweetie is a full Hamilton bitch sired by my Everglo Nag-Po of BO.

What a shock when Melanie Harker decided to play more games and claim that the AKC papers had been forged. It was strange that this accusation never occurred while one of her puppies was being shown. It was only after the puppy was no longer being shown that the forgery claim surfaced..
First letter from AKC to Betty Ingram and Monique van Boxtel

Click the letter to enlarge

This is the letter which Johnny Carter sent to AKC regarding this matter

Click the letter to enlarge

Second letter from AKC to Betty Ingram and Monique van Boxtel

Click the letter to enlarge

Letter from AKC to Mr. Johnny Carter regarding Everglo Nova Nag-Po of Bo and the litter he sired

Click the letter to enlarge
---
OWNERSHIP OF DJ
This is to clarify any misunderstandings that may be occurring regarding the ownership of DJ which has been brought up again and again by Cathy Marley.
Cathy Marley offered DJ to me, Monique van Boxtel, in November of 1999. I clearly asked that Betty L. Ingram be allowed to keep DJ in Modesto, CA until such time as I would be able to take him. Betty's granddaughter, who lived in New Jersey at the time, picked up DJ at Cathy Marley's home and delivered DJ to Betty in Modesto.
DJ had been registered by Cathy Marley in her name, but on Jan. 1, 2000 she signed off on DJ's AKC registration certificate. Betty signed the co-owner section and then mailed the papers to me. I then signed them as owner.
This is a scanned copy of the back of DJ's registration certificate which shows Cathy Marley clearly signed the papers stating he was turned over on 1/1/2000.

Click the image to enlarge
There were never any conditions/strings on DJ when he was gifted to me.
DJ had been shown both in AKC and IABCA shows until the summer of 2001 when permission was granted to Melanie Harker LaPoint to use DJ at stud. He was returned by plane to CA the day I arrived to visit Betty in Modesto. We were shocked though to see that he was skinned. Melanie claimed he had to be stripped down because he had gotten into blackberry brambles.
In December of 2001, Betty & Bob sold their Modesto ranch and decided to retire. They were to travel through the USA and write a book. They also planned the rout to visit all their family and many of their Lhasas's offspring. Eventually they would find a place to settle down.
However, when they were on the interstate in VA about an hour South of Winchester they had a terrible accident. They had 10 dogs with them including DJ. Since Betty's Brother Pete lived in Harrisburg, PA and their Daughter Bessie lived in NJ they both rushed to their aid within hours. Amazingly all the dogs were in great condition because they had the metal crates and they were anchored to the wall.
They ended up living with Bessie and her family. Heather was ecstatic to have DJ in the household. Dj also fell in love with Heather's Lhasa bitch Anna. DJ also became a bed baby for Heather. In May of 2002 when Betty and Bob were ready to settle down with a new home in AL, Heather asked if DJ could stay with her. Betty consulted with me and I agreed.
In late September of 2002 DJ was so attached to Heather and her family that a joint decision was made to allow DJ to reside permantly with Heather. Heather also asked if it would be okay to neuter DJ and we both agreed. He was neutered on October 1, 2002.
DJ still resides with Heather to this day. To me and Betty a happy stable home where a dog is given so much individual attention is a priority over anything else.